nouvelles - 01/05/2012
Interview with Alice Varchi - Belgique
---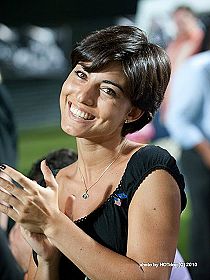 par Karl Donvil
---
First of all Alice make a brief introduction of yourself. Please let us know who you are, how old are you, how you started showing dogs and which breed you have at home. Hi! Well, as you already know, my name is Alice Varchi. I live in Milano (Italy) and last October I turned 19. I am attending at Mathematics, Physic and Natural Sciences University and YES I am a dog lover. My first experience with dogs goes back to 1997 when I was 6 years old and I met the Dobermann. When I became a little older I started learning about the breed and being interested about others. I was strongly determinated in discovering how bloodlines work and their selections. In the while my family started a nice relationship with Italian Terrier's Breeders of "Granlasco Kennel" and the first Bedlington Multi Ch. Granlasco Nemo has come. In May 2006 we entered Nemo at Seveso National Show and that was my very first dog show. Today I am owning two Bedlingtons: Multi Ch. Granlasco Nemo and our great winner Multi Ch. Velvety I Want It All.
We saw you in many European rings competing as a Junior Handler. In which countries you competed and which were your major awards?



From May 2006 to November 2008 I have been prized in Italy, Republic of San Marino, Principate of Monaco, Switzerland, Austria, Slovenia, Croatia, England, Sweden, Hungary and Germany for a total of 66 podiums. 33 of them were first places! My majors wins were in 2008 : Third Place at Pedigree International Junior Handling Final at Crufts judged by Mrs. Renee Sporre Willes, Fourth Place at World Junior Handling Final judged by Mr. Peter J. Green and Second Place at European Junior Handling Final judged by Mrs. Dorotha Witwoska. I was able to compete there as Italian Junior Handler Champion and "Carlo Speroni" Trophy Winner but I am very honoured to have been Luxembourg Kennel Club representative in 2009 International Final Competitions.



How did you start with that career? Where did you learn about?



I competed in Junior Handling at my first dog show. Actually I didn't know how to show a dog but of course I tried to sort something out, listening to a friend's suggestions and watching what other Juniors were doing. I later learnt about Junior Handling - I mean figures and behavior in the show ring - in Slovenia and Austria. There was an available judge from early morning in an own ring. These judges were not taking care about Junior selections giving them scores only, but they were also teaching! They gave me suggestions and they told my mistakes! This last part is very important because you learn a lot from your own mistakes and we all know that learning never ends. Some countries are still supporting this kind of judgment and I think it is a successful way to spread JH around. Juniors are the future.



Do you think it's easy to be a Junior Handling Judge?



Absolutely NO. In a JH competition you are not looking for the best dog based on well known standard. You can't make a comparison on qualities only. You should perfectly know what to ask to find out the real best Junior because you are choosing the best Professional Handler in that ring in that moment.



How is Junior Handling organized in your country?



Junior Handling was not so diffused some years ago but "Made in Italy"s have always got very nice results in International Competitions. Now, for the first time in italian history, an Italian Junior Handler Association is coming out. It has been created by Juniors, Ex Juniors, parents and supporters. Works are still "under construction" but we are plenty of hopes for a huge success of that. Concerning our methods of selections, we earn points till the 6th place and the best three scores of each region are competing at the National Final - which uses to take place in January at the big show of Milano.



Which breeds you used to show in those competitions?



I mostly preferred small size dogs as Terriers, Dachshunds, and Miniature Schnauzers. They are easy to handle for figures. Anyway I can't hide that I loved to show Gundogs and Hounds in big arenas where you can fly, and fly, and fly… and fly!



On your opinion what is the most important skill of being a good Junior Handler?



First of all I might outline that, as I said before, a Junior Handler is a future Professional Handler and must behave like a Professional Handler! He/She should know what to do in a ring because judges are looking for the best showing techniques. However I have always thought there is one important quality that catch your eyes in a good Junior and that let you discover who is the best one over all in a competition: this "skill" is represented by a great contact with the dog. Anyone can take the lead and go in a ring but when you are showing you need feeling. And only this feeling will help you to be just the background of your dog, and will let your dog to be the star. That means handling.



Many times people say that parents are often causes of tensions in the sport. Should parents encourage Junior Handling or leave Juniors caring about that? Tell us about your experience.



What you are saying is absolutely true, anyway there are parents and parents. On my opinion they should help and support their kids as with everything in life but of course in a right way. Junior Handling is a pleasure, parents should not turn it to something that keeps Juniors under pressure. Their roles take place in the education encouraging Junior Handling as any other sport: you may lose, you may win. It makes guys grow up in single and team work. Children and teenagers will meet many other boys and girls of same ages, from different countries, and they will learn about dogs and how to love them. I have been very lucky with this matter: mum and dad were always with me following my show adventures almost everywhere, we were new in this dogworld and we have discovered it together, step by step.



Nowadays you are showing dogs professionally, you groom and train them. When you still were a Junior, did you take care of grooming?



Well, not all the times! As soon as I started showing I have attended at a Grooming Course so I was already "grooming" my bedlies – you can guess how a fifteen years old girl could "professionally" groom her dogs! I was anyway doing my best all the times! But I went in the ring with many dogs and when I was looking for a new breed to show in JH, I didn't know almost anything about its grooming. Kind Breeders and Professional Handlers were teaching me how to groom their dogs. So usually the first time the dog was ready for me and from the second on I tried to prepare them by myself… with a little help of a more experienced eye ? This is how I learnt about dogs' grooming!



Did you ever work as assistant for a Professional Handler before?



I helped many times and many Handlers - and I still helping friends if they need nowadays. Everything started from taking their dogs for a pee and continued with preparation before rings and showing in the end. However I have never really worked as assistant.



What are your plans for the future?



I don't know right now what University's plans will deserve for me: I am studying so many subjects related to animals' genetic and nature I do love. I just have to decide which way I would like to follow most but it may work with cynology and its areas. In the while I will of course keep showing around as it's my deepest passion. Moreover I will continue learning about breeding because one of my most important aims is to become a good and renamed breeder… and maybe one day I will take in consideration to be a judge. As for now it's fine like this!



Thank you for this interview Alice , we wish you good luck for your next show!

It has been a pleasure! Good luck Juniors!



I Oleg P.Bochkov the HOTdog magazine editor in chief, 119331, Russia, Moscow Krupskaya str.3-126, e-mail: hotdogrus@mail.ru, give permission to publish one photo's, free of charge, in the FCI Magazine to illustrate the interview with Junior Handler Alice Varchi and on condition that the Copyright Logo and my name are clearly mentioned in the article or under the photo's.

I, Svetlana Valoueva, Zolyno 11a-24, Vilnius, Lithuania, +370-699-31674 lvaloueva@gmail.com, give permission to publish one photo, free of charge, in the FCI Magazine to illustrate the interview with Junior Handler Alice Varchi and on condition that the Copyright Logo and my name are clearly mentioned in the article or under the photo's.